Millegipärast ei kipu ma väga kokku sobitama india ja tšehhi helmeid... No ja seetõttu ongi india helmed natuke actionist kõrvale jäänud. Kuna neid juba kogunenud paras hulk, siis otsustasin teha india helmestest kee.
Kasutasin 0,8mm antiikset vasktraati ning kuna olen märganud, et ketid nii jämedast traadist kipuvad takerduma, pidin tegema suuremate aasadega kui tavaliselt. Eks see oli paras katsumus - kasutada ümarate otstega tangide teatud kohta seal kuskil keskel kõikide aasade tegemisel :) Kui keti osa valmis sain, hakkas järsku inspiratsioon lendama ja nii pookisin ehtele külge pitsi ja kunstsiidist paela ning suletutt pidi ka olema.
Kaelakee on päris pikk ja tegelikult pole sellele kinnist vajagi. Kaelakee on müüdud.

Christina andis mulle ühe järjekordse austava blogi auhinna :) Nice Matters Award! Tänud sulle.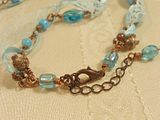 In some reason I don't want to put Indian and Chech beads together in one piece... And because of this India beads are kind of left out of the action. Since I had a nice amount of those I decided to make a necklace of them.
I used 0,8mm thick wire. I've noticed that loops of chain made of that wire tend to tangle so I made bigger loops. It was quite tricky to use a certain center area of my round nose pliers all the time :) When I finished the beaded chain suddenly inspiration came and then I put some satin ribbon, lace and feathers.
The necklace is quite long so actually there's no need of clasp.
This necklace is sold.
Christina
gave me an award: Nice matters award! Thank you so much.