Minu ehtevahetuseporjekti raames tehtud komplekt jõudis lõpuks kohale! Minu "ohvriks" oli kirsti1. Tundub, et ehted saajale meeldisid :) Vasktraadist ja klaashelmestest ehted. Kaelakee kinnise tegin ise. Kaevõru on eelpainutatud traadil. Tegelikult oli ka sõrmus, aga sellest mul pilti ei ole (vt kirsti1 blogi).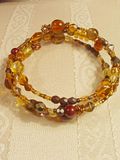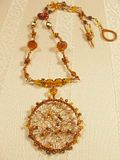 Jewelry Swap project is over. The package with jewelry I made had reached the destination. I made a set to
kirsti1
. Seemed that she liked it :) Those are made with copper wire and glass beads. I also made the clasp of the necklace. Bracelet is on memory wire. There was a ring too, but I don't have a picture of it (see in
kirsti1
blog).