Tükk aega pole miskit teinud selles tehnikas. Mõni aeg tagasi hankisin Silverpointist TOHO seemnehelmeid ja kuubikuid ja nii otsustasingi peyote' varianti proovida. Ehh, no nende kuubikutega on lausa lust teha! Pärlipõiming asetub töö käigus ilusti ja jääbki nii. No mis nii viga? Kuna võtsin neid kuubikuid vähem kui terveks käeketiks vaja, siis panin sekka 8/0 suuruses seemnehelmeid, oligi põnevam. Ma kujutan ette, et heksakonid (kuuekandilised seemnehelmeid ) peaks samamoodi paika asetuma... eks teen ka nendega proovi. Kinniseks improviseerisin mingi asjanduse :) Igaljuhul täidab see oma eesmärki ja sobib ehtele suurepäraselt!
Siin on siis üheskoos lillakad metalsed kuubikud (4mm) ja ametüsti värvi 8/0 seemnehelmed ja pisut metalseid lillakaid 11/0 seemnehelmeid ka. Kinnise "nööbi" tegin eraldi, muidu kogu käekett ühe helmeniidiga tehtud (st pole jätkatud).

Jenn küsis, kui kaugel mul tikkimise projekt on ja arvake mis? Ma võtsin selle uuesti välja ja jätkasin tööd. Ehkki olin sellele juba käega löönud. See pole küll veel valmis, aga küll ma kunagi jõuan. Aitäh Jennile selle väikese tõuke eest!!!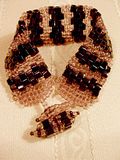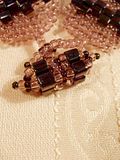 I haven't done anything in this tehcnique for a long time. I bought some TOHOs from
Silverpoint
and thought I'd give it a try. Working with those 4mm TOHO cubes is so easy! Work sets right so easily and stays that way. No problem! Since I took less cubes than necessary to make a whole bracelet I added 8/0 seedbeads, it made the process a lot more interesting for me. I guess hexacon seedbeads should set in this stitch as well as cubes... I think I'll try it. For the clasp I improvised somekind of a thing :) Anyway it works and looks good!
I used purple metallic cubes (4mm) and 8/0 amethyst seedbeads and a little 11/0 metallic purple seedbeads. I made the clasps "button" separately, rest of the bracelet is done with one thread. The ends of the bracelet is done with brick stitch.


Jenn
asked about my embroidery project and guess what? I took it out again and continued with it. I allready had given up on that. It's not finished, but it's in progress. Thanks Jenn for that little push!!!