Kaelakee, kus kasutasin uusi kivihelmeid! Et ikka säraks ka, siis panin swarovskeid (jälle) - õnneks oli mul sama tooni kohe sahtlist võtta! Mõnikord kohe veab :) Kaelakee tegin hõbetraadiga, helmed kah hõbedast. Keti lingid tegin mässitud aasa võttega, ei teadnud kas nutta või naerda. Ühelt poolt on see minu esimene hõbedast kaelakee, mis ju vägev - ootasin kaua, et millal ma nii kaugele jõuan. Aga nähes, kui palju seda hõbetraati kulub...

Ja tikkimine ei edene kohe üldse :( No ma räägin, et katastroof!!! Võtsin endale liiga suure ülesande...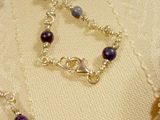 Here's a necklace with my brand new beads! To add sparkle I used some swarovskies (again) - fortunately I had some in right color. Lucky me :) I made it with silver wire, with silver beads. I did the chain with wrapped loops, didn't know should I laugh or cry. Well, it is my first necklace made from silver (last one was just a pendant), I mean that's great! I waited and wondered when I'd get that far. But to see, how easily the silver wire is used up...And embroidery piece is just a disaster :( I guess it's too difficult for me...