Paljud teavad, et traadikeerutajatest on üks kõva tegija Eni Oken. Tema tööd on inspireerinud paljusid, kaasa arvatud mind ;) Ja siin ongi üks käevõru, mille tegemisel oli vaimusilma ees Eni coiled bangle. Võrus on jadeiidist (new jade) ja hõbedast helmed mässitud hõbetraatidesse.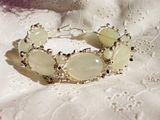 Lot of people know a wire wrapping guru
Eni Oken
. Her works are great inspiration to many, including me ;) And here is a bangle that I made while I had Enis
coiled bangle
in mind. I used new jade and silver beads and wrapped them in silver wire.