Hõbekõrvarõngad tillukeste ioliidist helmestega (~3mm), mis ma ostsin Luxoniast. Nende helmeste värv on lihtsalt võrratu! Kõrvarõngaste läbimõõt on 2,5cm. Need kõrvarõngad on müüdud.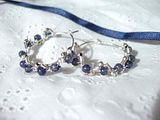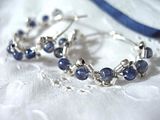 Silver earrings with tiny iolite beads (~3mm) I bought from
Luxonia
. The color of the beads is absolutely gorgeous! Diameter of the earrings is 2,5cm. These earrings are sold.