Kõrvarõngatrio :) Osaleja nr 1 on Vahemere hõngulised hõbekõrvarõngad türkiisist torudega ja mageveepärlitega ning hõbedast meritäht on ka pilku püüdmas! Osaleja nr 2 on romantilisie poole esindaja - keskel lihvitud granaat, kaaskondlasteks lihvitud turmaliin ja hõbehelmed! Osaleja nr 3 on lihtsas stiilis, minu varude kõige ilusamate ametüstidega!
Kõrvarõngad on tehtud 0,8mm sterling hõbetraadile. Valmisid need tagurpidises järjekorras...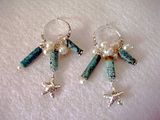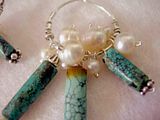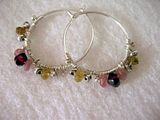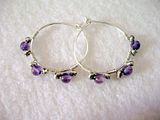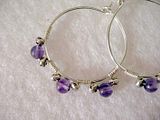 The trio of earrings :) Participant nr 1 is a pair of earrings that has a feel of Caribbean with turquoise pipes and freshwater pearls accented with silver sea star! Participant nr 2 is from the romantic side - faceted garnet in the middle, accompanied with faceted tourmaline and silver beads! Participant nr 3 is in simple style with the very best amethyst beads that I have!
I made these earring on 0,8mm sterling silver wire. I made the three pairs in reverse order...