Lehvik. Olen mõelnud lehvikukujulise ripatsi peale ja nüüd jõudis aeg üks valmis meisterdada. Inspiratsiooni sain Maz Simpsonilt, kuigi jah, tulemus on pisut erinev... Nüüd, kus kätte on jõudnud pime ja külm aeg, kus pildistamine on peamiselt toas, on väga raske lambivalguses õigeid värve tabada. Selles komplektis on värvideks selline siidri-kollane (selline lahja) ning lillakas-sinine/sinakas-lilla, nagu näiteks hortensial on. Metallkomponendid ning traat on vasest. Piltitega pole kohe üldse rahul :( Vähe sellest, et värvid on valed, piltidel tundub lehvikukujuline ripats kuidagi raske, tegelikkuses on see aga õrn ning lõigatud seemnehelmed helgivad ja sätendavad valguse käes...
Komplekti kuulub kaelakee, kõrvarõngad ja ripats. Viimane võib olla lisandiks kaelakee ripatsile (vaata teise rea pilte), kuid võib leida koha ükskõik, kuhu tulevane omanik seda soovib (käekotile, mobiilile, värvli aasadele vms).
PS uued ja paremad pildid järgmises postituses.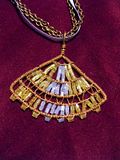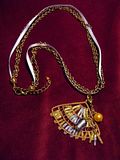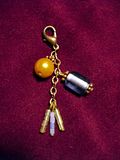 I've thought about fan pendant for awhile and today was the day I decided to make it happen. I got inspiration from
Maz Simpson
, though... my result is a bit different. Now when days are darker and colder, photographing must be done indoors. It's really hard to capture the right colors. In this set there are colors like light yellow (like cider) and light lilac-blue that hortensias have. Metal components and wire is copper. I'm not happy with those picture :( In addition to wrong colors the fan pendant looks heavy, although in real life it's not and cut seedbeads sparkle in light...
In this set there are a necklace, earrings and a pendant, that could be an addition to the fan pendant (see pictures in the second row), but also could be a accessorie (for a mobile, bag etc).
PS Newer and better pictures are in the next post.