Lõppude lõppude lõpuks sai ndebele kaelakee valmis! Pikkust on sel 120cm pluss 6cm pikkused otsakaunistused. Kaelakee kaalub 133gr, millest otsakaunistused moodustavad enamiku :) Nööriosa on põimitud ümber paela, mistõttu muidu seest õõnes ndebele põiming hoiab tugevalt ja kaunilt. Kasutasin TOHO seemnehelmeid (11/0 hele ja tume ametüst kokku 40gr, 11/0 metalne lilla 30gr, 4mm metalne lilla kuubik 14tk) ja Tšehhi klaashelmeid. Nööri osal on pikitriibud ning otsakaunistused on korall-stiilis, millele lisatud julgelt suuremaid helmeid :)
See kee on müüdud!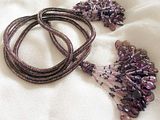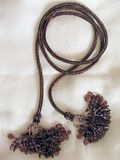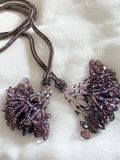 Finally I've finished my ndebele lariat! It is 122cm long plus fringes on the ends that are 6cm each. The whole lariat weights 133 gr, most of the weight comes from fringes :) The rope part is made on a
string
, so the ndebele stitch that is hollow inside hold strong and pretty. I used TOHO seedbeads (11/0 light and dark amethyst altogether 40gr, 11/0 metallic purple 30gr, 4mm metallic purple cubes 14pcs) and different kinds of Chech glass beads. Rope part has lenghtway stripes and fringe is done in coral-technique with some bigger beads :)
This lariat is sold!