Peyote käekett koos tähega. Idee tuli kuulates soome ansambli Viikate laule ning nende lauludest oli saadetud ka töökäik (peaaegu 3 tundi jutti :P). Kunagi kuskil varasemas postituses ma lubasin ära proovida TOHO hexagonid, et kuidas helmepõimingus oma koha leiavad. Väga hästi leiavad! Siin käeketis ongi kasutatud TOHO 8/0 hexagonid värvides must ja metalselt läikiv roheline-pruun. Lisaks on seal 11/0 ümarad mustad ja metalselt läikiv roheline-pruun. Tähes on lisaks kasutatud tšehhi 4mm metalseid rohekaid lihvitud ning TOHO musti ümaraid 8/0 helmeid. Käeketil on ka muster, mis vastavalt valguse mängule on kord nähtav kord mitte (vaata viimast pildipaari).

PS Selle käeketi mustri saad siit!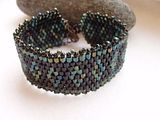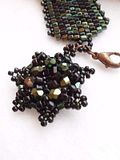 The idea came when I listened songs of a finnish band
Viikate
. This music played all the time I made this bracelet (almost 3 hours straight :P). Somewhere in my previous post I decided to try out TOHO hexacons and see how do they fit in off loom beading. Well, they fit perfectly! In this bracelet I used TOHO black and green-brown iris 8/0 hexacons, 11/0 round black and green-brown iris. I also used when making the star 4mm fire polished cut beads with greenish finish and 8/0 black round TOHO seedbeads. This bracelet has a pattern that is sometimes able to see and sometimes not - it depends about the light (see the last pair of pictures).

PS Free peyote pattern here!