Kõrvarõngad. Tegelikult tahtsin teada anda, et mul on DaWandas hull soodukas -25% kõigelt maas! Miks? Sest mul oli sünna (see oli küll eelmine nädal...) Miks 25%? Sest see on ilus number, millega tuleb mul harjuda. Soodukas kestab nädal aega (14-20 jaanuar). Uued hinnad juba on märgitud, eekudes on hinnad toote kirjelduses (NB vt et oleksid inglisekeelses keskkonnas!).

Kui soovid sealt midagi osta, siis on mitu võimalust. Esimene on teha DaWandasse konto. Lihtne värk. Seda enam, et DaWandas ei pea olema PayPali konto - saab teha ka pangaülekandeid. Kui DaWandasse kontot teha ei taha, võid mulle teada anda, märgin ise toote müüduks ning panen posti.

Need kõrvarõngad on samasuguste konksudega nagu eelmises postituses. Kullavärvi traadist ning veesinistest klaashelmestest. Tegelikult on nad armsalt pisikesed - ilma konksuta 3cm pikad. Rõngake on ~1,5cm diameetriga.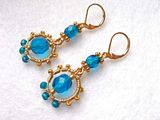 Actually I wanted to let you all know that I have a crazy sale at my DaWanda shop -25% off! Why? Because I had a birthday (last week though...) Why 25%? Because it's a pretty number and a number I need to adjust to ;) Sale lasts whole week (14-20 January). New prices are already at place.

If you wish to buy anything, there're some different possibilities. First one is to make an account at DaWanda. It's easy. And PayPal is not obligatory, you can pay with bank transfer as well. If you don't want to make an account, just let me know, I can mark items as sold when transaction is done and post the item.

But these earrings - they have the samekind of lever backs as earrings from the older post. Made them from gold color wire and aqua blue glass beads. They're quite small - only 3cm without the earwires. The circle is ~1,5cm in diameter.