Midagi armunutele. Mõeldes valentini päevale, tahtsin minagi midagi südamekujulist nikerdada ;) Kui olin traadist kuju valmis saanud ning ripatsid külge riputanud, arvasin, et sellest tuleks kena kaelakee ripats. Nii lisasin kolm rida valgeid ja piimjaid helmeid nailonkattega terastrossile ning valmis ta oligi! Valge klaas ning antiikse välimusega vask tekitavad huvitava kontrasti. Valge on ju süütuse ja puhtuse värv, samas kui antiikne vask esindab vana-aja väärikust ja tarkust.
Ahjaa, väiksed tagasihoidlikud kõrvarõngad tegin ka lihvitud valgetest helmestest. Komplekt on müüdud.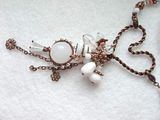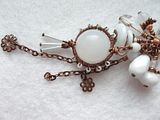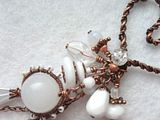 Thinking of the Valentine's day I instantly wanted to try to make a heart shape from wire ;) Once different dangles added I thought it would make a lovely pendant for a necklace. So I attached three rows of white and milky white glass beads on a nailoncoated steel wire. White glass and antiqued coppercoated wire and components make an intriguing contrast. White is the color of innocence and purity while the copper has the essence of old-times wisdom and elegance. And I also made a modest pair of earrings with faceted whte rondelles. THis set is sold.