Ametüst... Siin on kõrvarõngapaar, mille puhul olen kahevahel - kas teha ümber või mitte. Kasutasin siin 10mm pikkuseid lihvitud ametüstist ovaale ja 4x5mm lihvitud rattakesi, lihvitud kristallist rattakesi ning 4mm ümaraid pärlmutrist helmeid. Tillukesed 2mm ümarad vaskhelmed leidsid ka oma koha kõrvarõngastes.

Küsimärgi all ongi see osa, mis on ametüstist ovaali kohal. Nendele kristallist rattakestele ja pärlmutterhelmestele tegin mässitud aasad ja lükkisin koos ametüst ovaaliga samale traadile. Mõte oli küll neid panna sedasi pusasse, aga millegipärast vajuvad nad mõnikord ühele poole ning jäävadki sinna ega vaju tagasi nii, et neid jätkuks igale küljele. Üritan jälile saada võimalustest asja parandada ning annan siis teile teada...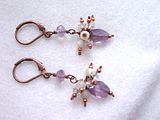 I'm not sure about this pair of earrings - should I redo them or not. I used 10mm amethyst faceted ovals and 4x5mm amethyst faceted rondelles, faceted chrystal rondelles and 4mm round mother of pearl beads. There's also some tiny 2mm copper beads.
The fringe above the faceted amethyst oval is the part that bothers me. I made wrapped loops to those faceted chrystal rondelles and MOP beads and strung them with wire with the amethyst oval. In some reason sometimes the links with crystal rondelles and MOP beads fall to one side instead of being in every directions. I'm working on this problem and let you see the outcome...