See kee on kingitus mu emale. Ripatsis ilutseb üks uskumatult armas helmes - ametüsti värvi mõraline helmes, mis on pisut lapiku kujuga ning lihvitud! Jah, lihvitud. Esimene taoline helmes, mis minu näppude vahele on sattunud! Lihvitud pinnad pole täiesti siledad kuna klaasis peenikesed mõrad, aga sellest hoolimata ma ikkagi imetlen :)

Helmest allpoole lisasin ümaraid klaashelmeid, MC helmeid, ehtsaid swarovskeid, hõbedatooni võtme, kaunistatud plaadikese, lillekese jms. Kett on parajalt pikk - 68cm! Ripats on eemaldatav. Kee pole müügiks.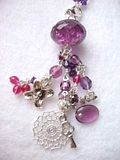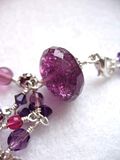 This is a gift for my mother. There is an unbelievably pretty bead in the pendant - amethyst-colored crackled bead, slightly in shape of rondelle and faceted! Yes, faceted. First of it's kind I managed to get my hands on! The faceted surfaces are not flawless because there are small cracks in the glass, but nevertheless I can't stop marveling the beauty :)

I made the fringe using round glass beads, MC beads, genuine swarovskies, silvercolored findings like a key, stamped filligree, flower and some others. The chain is long - 68cm! The pendant is removable. This necklace is not for sale.