Sellised tillukesed hõbedast Hill Tribe tiivad on mul olnud pea aasta. Ootasid oma õiget hetke. Idee teha kiili sain soomlaste Helmetti foorumist. Kiili pea on lihvitud ioliidi rattakesest, saba aga hõbehelmestest. Kõik helmed on ioliidist: lihvitud rattakesed, lapikud ovaalid, lihvitud ovaalid ning ümarad 4mm. Ioliit on sellist öösinist tooni, mis kollases lambivalguses muutub peaaegu et halliks. Arvan, et konksude asemel sobiks paremini kõrvarõnga pulk-kinnised, sest kõrvarõngad on päris pikad (6,5cm ilma konksuta). Konksud muudavad kõrvarõngad visuaalselt veelgi pikemaks... Kui kunagi hõbedased pulk-kinnised kusagilt saan, siis vahetan ära.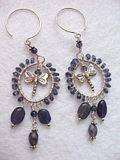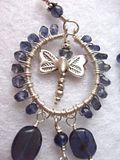 I've had those tiny Thai Hill Tribe silver wings for almost a year. Suppose they were waiting for their moment. I got the idea to make a dragonfly like this from finnish
Helmetti
forum. Head of the dragonfly is from the iolite faceted rondelle, tail is from silver beads. All beads are from iolite: faceted rondelles, flat ovals, faceted ovals and 4mm rounds. Iolite is in the color of night blue that in yellow light turns almost grey. I think that post-earrings would be better than hooks, because earrings are quite long (6,5cm). Hooks make them look visually longer... When I get my hands on post-earrings I'll make the change.