Õitsemine. Õrn kaelakee, mille täna valmis nokkisin. Tegin oma lillekujulistest helmestest segu ja tahtsin kõike sorte kasutada, aga välja tuli hoopis nii, et sinised ja rohekad toonid ning ca 2cm läbimõõduga lilled jäid kasutamata. Keti küljes on tilgad, odaots ja kokkuvajutatud kalotid, kes teesklevad, et nad on tillukesed kuljused vms :P

Huh, aeg on hakata mõtlema blogi märtsikuu värvile. Aeg lippab ikka kohutavalt kiiresti :)
See kee on müüdud.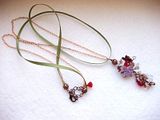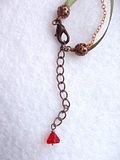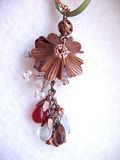 Delicate necklace that I finished today. I made a mix out of my flower shaped beads and wanted to put them all in this piece. But it turned out that blues and green tones with big flowers with ca 2cm diameter didn't fit here. There are drops and a dagger on the dangling chain with crimped tiny bead tips that are pretending they're bells or something like that :P

Well, it's time to start thinking about my blogs color for March... Time goes so fast :)This necklace is sold.