Mul oli varem hangitud swarovski kivikestega kett, teate küll, selline, kus pesad kivikestega on omavahel ühendatud. Sellised ketid on küll väga ilusad, kuid mina olen oma kogemusena leidnud, et nende ehetesse paigutamisega tuleb kõvasti pead murda. Idee kivikestega ketti kasutada koos lindiga sain ma Evita Peroni Kevad-Suve 2008 vihikust, mille sain Tallinna Kaubamaja ilumaailmast (sisenedes Evita Peroni leheküljele, on seesama komplekt kohe esimesel pildil, mida näed!). Milline rõõmus äratundmine mind valdas :)

Kõigepealt lõikasin kaks paraja pikkusega eelpainutatud traadijuppi, valisin lindi ning hakkasin kerima :P Kasutasin kahte eelpainutatud traati, kuna see kivikestega kett oli lai. Käevõru otste lõpetamine oli pisut probleemne, kuna eelpainutatud traat on vastikult rabe... Aga kuidagi õnnestus mul otsad viimistleda mässides seda sama linti ja traati.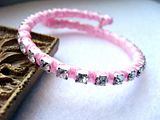 I've bought some swarovski chaton chain, you know the kind where stones are in montees and those are attached to each other. That kind of chains are very beautiful, but I get in difficulties when I want to use them in my jewellery. I got this idea from a booklet of Evita Peronis Spring-Summer 2008 (when you enter Evita Peronis site the first picture should be about that set!). I was really happy to see that same chain used in a set with dark blue lace :)
First I cut two pieces of memory wire, took some lace and started wrapping around the chain with stones and memory wire :P I used two pieces of memory wire because the chain with stones was quite wide. Ending that bangle was troublesome, because that memory wire was so brickle... But I managed ending with wrapping the lace and wire.