See kassikene pole eilesündinud. On teine juba paar kuud vana, kuid fotole pääses alles nüüd. Aga pole hullu, oskabki paremini poseerida :)

Mustavärvi messingtraat ning Hiina (Colibry) seemnehelmed. Pikkust kassil 4,5cm. Pole õrna aimugi, mis tast edasi saab.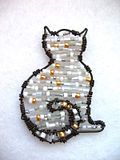 This kitten wasn't born yesterday, but couple of months ago. She made it to the photo session today. It's ok, now she's old enough to pose :)

Black colored brass wire and Chinese (Colibry) seedbeads. She's 4,5cm tall. I have no idea what to do with her.