Smadar andis mu blogile auhinna :) Kas pole kena? Tema blogist leiate uskumatult stiilseid ja ka aeganõudvad helmespõiminguid! Mulle tohutult meeldivad ka tema ehete värvivalikud. Auhinna nimi on Arte y Pico. Niipalju kui mina sellest aru sain, pole tegemist meemilaadse teatepulgaga, mida tuleks kõikidele jagada, vaid enne sügavalt mõelda, kelle blogi on sulle andnud kõige rohkem. Tõlgin selle auhinna andmise reeglid ka eestikeelde:
1) Vali 5 blogi, kes sinu arvates väärivad seda auhinda loomingulisuse, disaini, huvitava materjali ja samuti panuse andmise eest blogide maailma, olenemata keelest.
2) Auhinna andja lisab postitusse iga saaja nime ja lingi tema blogile.
3) Iga auhinna võitja paneb auhinna oma lehele ning lisab lingi, kellelt see auhind on saadud.
4) Auhinna saaja ning andja lisavad oma postitusse ka lingi "Arte y pico" blogile, et oleks teada, kust see auhind on alguse saanud.
5) Auhinna andmisel kopeeri need reeglid oma postitusse.

Edasi annan auhinna:
Lucy - imeilusad ehted!
Susa - vahel on tunne, et pole jäänud ühtki käsitööd, mida ta proovinud ei ole :)
Linca - Tubli ehtemeister, kellel ka õmblemistööd imehästi välja kukuvad.
Beadibulle - olen sealt leidnud väga palju inspiratsiooni helmespõiminguteks ning ka kasulikku infot erinevate õpetuste, blogide ja poodide kohta.
Hilisaed - uskumatult kaunid fimohelmed ning seinast seina vahvaid töid nii aias kui sisekujunduses.
*Andes seda auhinda, ei nõua ma kandidaatidelt osalemist :) See on vabatahtlik*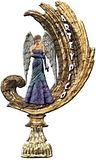 Smadar gave me an award :) That's so nice! It's called Arte y pico and the rules for passing the award on are:
1) You have to pick 5 blogs that you consider deserve this award for creativity, design, interesting material, and also contributes to the blogging community, no matter of language.
2) Each award has to have the name of the author and also a link to his or her blog to be visited by everyone.
3) Each award-winning has to show the award and put the name and link to the blog that has given her or him the ward itself.
4) Award-winning and the one who has given the prize have to show the link of "Arte y pico" blog, so everyone will know the origin of this award.
5) Show these rules.

And I give this award to:
Lucy - gorgeous jewellery!
Susa - soetimes it feels she has tried all tha crafts out there :)
Linca - Great jewellery maker, who also can sew beautifully.
Beadibulle - I have found so much inspiration in beadweaving from her blog and a lot of useful information about different blogs, tutorials and beadshops.
Hilisaed - Gorgeous fimo beads and so many different works in the garden and interior decoration.