Selle swarovski rivoli roheline on ilus kevadine. Pressisin selle ühte metalljublaka sisse. Rivoli läbimõõt on 14mm, see pisike kivike on pisut rohkem kui 4mm. Tegelikult oli mul mõte, panna sinna lehe otsa rippuma roheline kivi. Kuid hajameelne nagu olen, unustasin ära, et selle rivoli värvuse nimi peridot pole sugugi sama, mis pisikestel kividel - so siis olivine. No kohe mitte ei sobinud nad kokku nii nagu tahtsin. Õnneks tuli light rose appi ja kee sai ikkagi valmis ja nüüd mõtlen, et see roosa sobib palju paremini kui sama tooni roheline :)

Jajah, ja see kee on päris vallatu. Kui endale kaela riputasin, siis peale sädeluse tõmbas see ripats tähelepanu veel kelmika peitusemänguga :D Nimelt peidab rivoli end vahepeal ära, keerates tagumise külje. Õnneks on see tagumine külg kena ning mõjub nagu kõik peakski nii olema. Huh, vedas...
See kee on müüdud.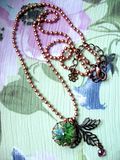 The color of this rivoli is nice and looks like a color of spring. I put it in a metal stamped filligree. The diameter of this rivoli is 14mm, the smaller stone is a bit more then 4mm. Actually I had an idea of attaching a green stone to the leave. But as I'm already an absentminded person, then ofcourse I mixed up the swarovski color names like peridot (rivoli) and olivine (small stones). They didn't fit as I wanted. Fortunately light rose swarovskies were there to help me out and I was able to finish this necklace and now I think that rose and green looks perfect :)

Yeah, this is a bit frisky one. When I wear this necklace then it draws attention not only with the glittering but also with hiding at times :) The rivoli turns the back side for a while and then turns the front again. Fortunately the back side is nice as well and it looks as if it's meant to be that way. Huh, lucky me...This necklace is sold.