Kaks kaelakeed, päris erinevad :) Esimene on olnud poolikuna juba paar nädalat... Ei suutnud seda lõpetada, kuna see keskmine pesa oli täitmata. Algne mõte oli kleepida sinna üks swarovski kivi, ent liim on ikka veel kättesaamatu ning enam ei jõudnud see kee lihtsalt oodata. Üks lihvitud klaashelmes leidis sinna koha. Need ametüstivärvi tilgakujulised kivid on Preciosa kristallist ja neil pole fooliumkihti taga. Seetõttu ei sära nad nagu peegel, vaid on sügavad ja mõjuvad sametiselt :) Aga need väiksed piimjad kivid on Swarovski omad. Veel leidub seal MC (masinlihvitud) helmeid, TOHO seemnehelmeid, 2mm vaskhelmeid ning üks tšehhi lihvitud klaashelmes, mis leidis koha sealsamas südamikus.

Teine kee valmis laupäeval. Ei oskagi kohe miskit kommenteerida... Ma tahtsin proovida, kas ümmargust metallist kausikujulist pesa annab ovaalsele kivile ümber panna. Annab küll :) Kinnitasin siis ripatsi tagasihoidlikule ketile ning lisasin kummalegi poole kivikesi ning kuljuseid (mis tegelikult on kokku pressitud kalotid).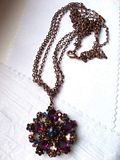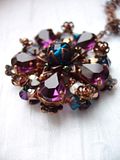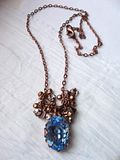 Two different necklaces :) First one stayed unfinished for a couple of weeks... I couldn't decide on the middle section of the pendant. First idea was to glue a rhinestone there with a special glue. But I couldn't get that glue and I had to think something else because this necklace couldn't wait any longer. So I put a faceted glass bead there. Those amethyst-colored pearshaped stones are from Preciosa chrystal and they don't have a folio on the back side. Therefore they don't shine like a mirror, but are deep and look velvety instead :) But those small milky ones are swarovskies. Then you can see that there are machine cut (MC) beads, TOHO seedbeads, 2mm copper beads and a faceted glass bead.

I made the second necklace on Saturday. Don't know how to comment on this one... I just wanted to try if I could fit a round metal stamping on an oval shaped stone. I found out I can easily do that :) I attached this pendant on a modest chain and added some flatbacks and bells (that I made from beadtips) on both side.