Jätkan oma amatöörkäsitöölise "karjääri" järjekordsete üllitistega... Eile valmis kaks kaelakeed :) Tegelikult oli mul plaan teha lehvikutaolist ripatsit, aga küll jõuab kunagi ka selle idee teostada. Seekord tulid välja miskit, mis meenutavad midagi tiivulist :D Esimesena tegin selle ametüsti ja kristallitoonis kaelakee, need piklikud on mõõtudega 15x4mm navette-tüüpi kivid. Teisel kaelakeel on imeilusat värvi kandiline kivi (princess baguette) - padparadscha - koos mustade kividega. Ja see armas 2mm musta värvi kristallike seal üleval on saadud Terje/Jõhvika käest.
Teine kee on müüdud.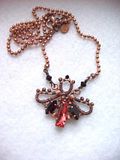 Yesterday I made two necklaces :) Actually I wanted to make a fan-shaped pendant, but I guess I'll try again another time. This time it looks like those pendants remind something winged :D First I made that amethyst and crystal colored necklace, those long stones are 15x4mm navettes. The second necklace has a baguette stone in beautiful color - padparadscha - with jet navette stones. An that cute 2mm black bicone crystal up there I got from
Terje/Jõhvikas
Second necklace is sold.
.