Vot selline näeb see löögiraud või tempel välja. Tellisin selle Tartust. Need metallist "lipikud", millele märgi löön, on tellitud hea inimese kaudu USAst ;)
Märgi löömist on mul vaja veel harjutada ja eks mõned lipikud on nässu ka läinud.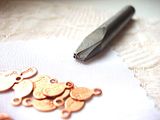 This is the stamp I use. I ordered this from Tartu. Those metal tags are ordered from USA with a help from a nice person ;)
I still need to practice this stamping, there were some tags that went really wrong.