Täna oli mõnus päev. Töölt vaba, oli aega ehteid nokitseda ning kohale saabus ka Bead&Buttoni ajakiri :D Seal oli nii mõndagi huvitavat (eriti need konkursitööd) ja ka tuttavat (näiteks torukujuline võrgu põimimine, kus ümarad helmed vahel). Vahepeal käisin ka postkontoris, panin paar pakki posti.
Panin siia ühed uhked ja rippuvad kõrvarõngad. Klikkides juhatab DaWanda lehele, kus näeb ka teisi vaateid. Loomulikult swarovski kividega (montana blue kolmnurksed kivid) ja loomulikult vasksete komponentidega ;) Kõrvarõngad on päris suured - 4,5cm pikad (ilma konksudeta) ning traadiga osa on 4cm lai.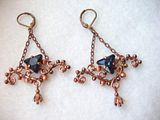 Today was a good day. No work, time to bead and new issue of Bead&Button arrived :D There was quite many interesting there (those Bead Dreams 2008 competition works) and some familiar (netted tubes with gemstones). I also visited post office to post a couple of packages.
Here I put a picture of a pair of dangly and fancy earrings. Clicking on the photo opens a DaWanda site where you can see other views of the earrings. Ofcourse with swarovskies (montana blue triangle stones) and this time with copper plated components ;) These earrings are quite big - 4,5cm long (excluding leverbacks) and tje wire wrapped part is 4cm wide.