Uskumatu, kust võib leida ideid. Eile ma vaatasin erinevate ehtekunstnike töid, et leida mõtteid. Inspiratsiooni lõi elama aga hoopis üks DaWanda poodnik bingbing, kes müüb tarvikuid. Ja üks ripats, mille puhul hakkasin mõtlema, et kuidas seda traadimässimisega teha :)
Selles kaelakees on türkiissinised swarovski kristallid ning naturaalne pärlmutter.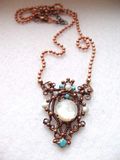 Unbelievable, where you can find inspiration. Yesterday I was looking different jewellery to find some ideas. But inspiration came from a DaWanda shop bingbing, where you can find supplies. And there was a silver colored pendant that got me thinking of how to make this in wire wrapping :)
There are turquoise blue swarovski crystals and natural shell in this necklace.