Olen avastanud enese jaoks uue värvi! See imeilus sügav roheline on swarovski värvide hulgas nime all turmaline. See värv meenutab montana suursugust, mõlemad värvid on kuidagi kuninglikud. Kasutasingi ainult ühte värvi - kaelakees olevad swarovski helmed on sama värvi. Kandilise kivi mõõdud on 12x10mm ja helmed on suuruses 6mm ja 4mm. Need naljakad helmekübarad on mul ise krussi keeratud :) Võtsin lillekujulise helmekübara ning keerasin peenikeste tangidega need rulli.
Teises kaelakees olen ära kasutanud kolm ühesugust white opal kivikest (navette). See sobib tänasesse lumisesse ilma suurepäraselt. Ripats on kinnitatud kolmele ketile ning üks mageveepärl on seal ka :)
Tegin ühed lihtsad kõrvarõngad ka, olen juba ammu tahtnud teha selliseid poltkõrvarõngaid kivikestega. Kivikese (white opal) suurus on 8mm, kõrvarõnga osa on baasmetall antiikvase viimistlusega.

Roheline kee on müüdud.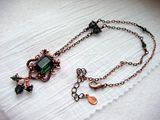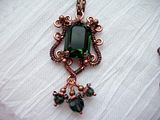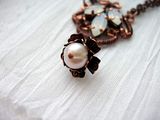 I think I found myself another favourite color from swarovski! This gorgeous deep green is named as turmaline. This color reminds me of the royalty of the montana - both of them are deep and luxurious. And I used only turmaline in the first necklace. The rectangle stone measures 12x10mm, beads are 6mm and 4mm. These funny bead caps are curled up by me :) I took a flower shaped bead cap and used fine round pliers.
In the second necklace I used three white opal stones in same size and shape(navettes). It fits in the weather today perfectly - so much snow here! There are three chains and also a freshwater pearl :)
I also made a simple pair of earrings. I have wanted to make that kind of post earrings with a stone for a long time. The stone (white opal) measures 8mm in diameter and the metal part is from base metal with antique copper finish.

Tourmaline green necklace is sold.