Mul on Takako Samejima raamatu Bead Fantasies kõik neli osa. Sellise eelpainutatud traadile tehtud sõrmuse õpetuse leidsin esimesest raamatust. Tegin spetsiaalselt selle sõrmuse jaoks oma arvates suure hulga ehtenõelu vasktraadist. Pärast sõrmuse valmimist ning ka käeketi tegemist tuli aga välja, et neid ehtenõelu polnudki nii palju kui arvasin. Neid ehtenõelu kulub ikka märkamatult ja palju. Viis tükki jäi järgi nii et sain teha ühe paari kõrvarõngaid. Sõrmus ja käekett on komplektina. Värvid valisin hetke emotsiooni järgi: tumesinine, lõheroosa, oliiviroheline, lavendlililla, kuldne ja ametüst. Tuli paras kompott :) Tillukesed ja detailirohked lehekesed vaskse viimistlusega sobisid sellesse värvisegusse ka suurepäraselt!
Kõrvarõngapaaris on samad tumesinised mageveepärlid, millele panin kaaslaseks lihvitud tsitriinist ovaalse kujuga helmed. Nii see tumesinine kui kuldne värv mõjuvad sellise rikkaliku ja küpsena nii, et rohkem helmeid sinna panna polnudki vaja. Ühe sulekujulise ripatsi panin ka. Kõrvarõngad on müüdud.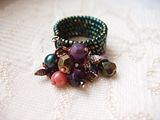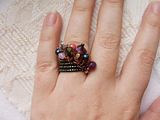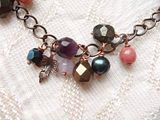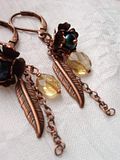 I have all four books of
Bead Fantasies
by Takako Samejima. I found the tutorial for the memory wire ring from the first book. I specially made a huge amount of pins for this ring, or so I thought. After making this ring and a matching bracelet there was only five left. Pins will run out so fast and easily. I made a pair of earring from the leftovers. The ring and a bracelet is a set. I chose the colors on a present emotion: dark blue, salmon pink, olive green, lavendel lilac, gold and amethyst. It became quite a mix :) I also added tiny and detailed leaves to this color mix.
The same dark blue freshwater pearls are also in this pair of earrings. I added faceted oval citrine beads to create a contrast. Both colors, the dark blue and golden yellow, are bold and rich so I didn't add any other beads, only a feathershaped pendant that adds lenght. Earrings are sold.