See on nüüd minu esimene üritus teha üks "päris" tikkimine kivi ümber. Esimene katse on nagu üks esimene katse ikka. Mõnes kohas oleks võinud paremini minna. Kasutasin Gem-Tac Glue liimi, mis on mõeldud kivikeste kinnitamiseks kangale. Kleepisin 14mm läbimõõduga lapiku tagusega klaaspärli käsitöövildile, polnud midagi paremat lihtsalt võtta. Seemnehelmestena kasutasin kvaliteetseid Miyuki helmeid (8/0, 11/0, 15/0), nendega on tikkimine (mis mu lemmikute hulka ei kuulu) lausa lust. Kõrvarõngastes on 5mm diameetriga lapiku tagusega klaaspärlid. Natuke kahtlema paneb selle vildi või ükskõik mis kanga kasutamine seal ripatsi ja kõrvarõngaste taga. Kas see mitte mustaks ei lähe? Üritasin küll sobitada metallplaadikesi sinna, kuid õige suurusega mul pole. Võibolla oleks parem kasutada näiteks nahka?
Igal juhul tundus mulle see valmimisprotsess kuidagi liiga pikana :) Arvatavasti tekitas selle tunde vahepealne liimimine (kivi vildi külge, siis tugevduspapp vildi külge, siis jälle üks vilt papi külge) ja liimi kuivamisest tingitud ootamine.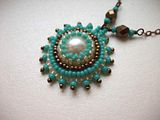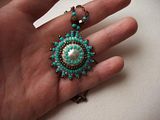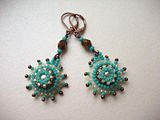 This is my first "real" attempt to make an embroidered cabochon. This first attempt is just like the first attempts used to be, there are some things that I should have done better. I used
Gem-Tac Glue
to glue stones on a fabric. I glued 14mm glass pearl cabochon on a craft felt sheet, I didn't have anything better than that. Seedbeads are good quality Miyukis (8/0, 11/0, 15/0), embroidering (not my favourite thing) with those is easy and pleasant. In earrings there are 5mm glass pearl cabochons. I don't think that felt is the best thing to use at the back of the embroidery. But even with a better cloth, doesn't it get tirty? I did try to put a metal stamped filligrees there but couldn't find a suitable one. Perhaps it is better to use leather?
Any way this embroider took too much time in my opinion :) It's probably because of all of the gluing (the cab on a felt, a cardboard on a felt, another felt on a cardboard) and waiting the glue to dry.