Ei, ma pole unustanud oma erkpunase eksperimenti. Eesmärgiks on seda värvi tundma õppida nii, et suudan seda kokku panna rohelisega ja ka tulemusega rahul olla :) Et see poleks liiga jõuluteemaline. Varem olen katsetanud pärlmutriga ning türkiisrohelisega. Ega seegi kord midagi enneolematut suutnud teha, ikkagi selline "turvaline" värvivalik. Sest pärlid sobivad peaaegu, et kõigega ning must samuti. Vbl ainuke selline kahtlus-proovimine-õnnestumine oli nende mustade AB helmestega. Külmatooniline läige annab sellele kombinatsioonile palju juurde. Kelluke on ndebele tehnikas ja 15/0 Miyuki seemnehelmestega. Metalliks valisin seekord peamiselt hõbedase. Kaelakee on väga liikuv :)
Müüdud.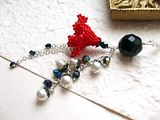 No I haven't forgotten about my experiment of finding color combinations with bright red. I wish I could learn to know this color so well that I'm able to put it with green and be happy with the result :) That the result would not be too into Christmas theme. Previously I have tried bright red with
MOP
and
turquoise green
. I still don't feel comfortable with this color so this time I also tried a "safe" combination. Because pearls goes with almost anything and so does black. Perhaps the only moment of doubting-trying-succeeding was with the black AB beads. This gives that "something" to this whole color combination. The flower is stitched with ndebele from 15/0 Miyuki seedbeads. Metal components are mostly silvery this time. This necklace has a lot of movement :)
Sold.