Ma kasutasin seda sama nippi ehtekivide ühendamisel nagu selles kirjute kividega kaelakees. Kõige esimene, millega alustasin oli see roosa moonstone ja amethyst swarovskitega käekett. Selle tegin ovaalsete rõngastega. Kahjuks ovaalsed ei lase igakord käeketil ilusti "langeda" ja nii tegin ülejäänud kaks ümmarguste rõngastega.
Rohelises komplektikeses on vanad swarovski green opal ning suurem peridot ehtekivid ja prossis rohelisekirjud navette klaaskivid. Kui mäletate, siis mul oli selliseid suuruses 15x7mm, tegin ühe kaelakee sellega. Siin prossis aga on suurusega 10x5mm :) Kusjuures ma eile surfasin ja leidsin väga inspireeriva koha: Morning Glory Jewelry. Muide, ühtedel Diori kõrvarõngastel on samasuguseid rohelisi ehtekive!!!
Helesinine komplekt on hetkel mu lemmik. Sinna panin ma Saksamaal USA tsoonis toodetud siniseid klaaskive ning kolm meelespea mustriga klaaskivikest. Viimased on super armsad, sain need ükskord kingituseks. Ma olin nii õnnelik :) Neid helesiniseid klaashelmeid ma ei teagi, et need mul olemas olid... Igaljuhul sobisid tooni poolest hästi kokku ehtekivide ja tilkadega. Viimane käekett on üleval ka mu DaWanda poes.
Roheline käekett ja kõrvarõngad ning roosa komplekt on müüdud.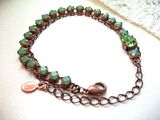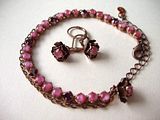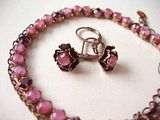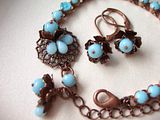 I used the same trick attaching rhinestones with jump rings as in the
necklace with rainbow glass stones
. The first bracelet that I did like this was the one with pink moonstone rhinestones and amethyst swarovski crystals. I did it with oval shaped jump rings. Unfortunately oval jump rings sometimes obstruct the bracelet in movement and so I did the other two with round jump rings.
In that green set I used vintage swarovski crystals in green opal and peridot, in the brooch there are vintage green navettes. You may remember that I have that kind of navettes in bigger size (15x7mm), I used one to make
a necklace
. In this brooch there are navettes in size 10x5mm :) I did some looking through the internet yesterday and found a very inspirational site:
Morning Glory Jewelry
. And I couldn't believe my eyes when I saw samekind of rhinestones in a
pair of earring by Dior
!!!
The light blue set is my favourite at the moment. I used blue rhinestones that were produced in US zone in Germany and three flowershaped rhinestones. These flower rhinestones are super cute, I got them as a gift. You can imagine the happiness :) I don't remember that I had those round blue bead... but they go perfectly with the glass stones and dropshaped beads.The third set is also in my DaWanda shop.
Green bracelet and earrings and the pink set is sold.