Vot see käekett tuletas mulle meelde, et see nn disainimise protsess võib olla väga aega ja vaeva nõudev. Mul on praegu selles ehete tegemises kõik kuidagi kaootiline. Poolikud ideed tormavad peas ringi, pildid suvalistest ehetest tulevad silme ette. Ka sellistest ehetest, mis pole minu maitse ja tehtud tehnikas, mida ma ei valda või ei soovi kasutada. Samas pole jõudu või tahtmist nendega tegeleda ja kui tulebki tegemise tuhin peale, siis kõik ideed poevad kuhugi peitu ja jään lollilt oma helmeste keskele...
Niiviisi olen saanud valmis ainult ehete tükke. Jah, TÜKKE. Mis ma nende tükkidega peale hakkan, on täiesti lahtine. Ka selle käeketi lille ja seemnehelmestega osa oli üks neist tükkidest, mis sai valmis ja jäi ootama. Ma vist tahtsin teha sellest kaelakee ripatsi... või oli see hoopis mõni kõrvarõnga idee... Igaljuhul ma murdsin paar päeva selle üle oma pead, kuni selgus, et valmis peab saama käekett. Siis kulus mul päevi, et aru saada, mismoodi see käekett peab välja nägema. Kui tööga lõpuks alustasin, siis tekkis jälle mingi päevane vahe, kus mõtlesin tehniliste lahenduste üle. Ma ei julge mõeldagi, kui palju aega mul selle käeketi peale kulus. Aga lõpuks, siin ta on :)
See on üleval ka mu DaWanda poes. Müüdud.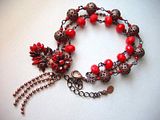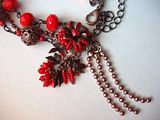 This bracelet reminded me that the process of designing can be really difficult and time consuming. I seem to have this weird phase when everything related to jewellery making is a bit chaotic. Unfinished ideas are running around in my head and I see images of random jewellery in my mind. Jewellery that isn't really for me and made with techniques that I can't or don't want to use. And then I don't have the strenght to deal with these ideas and when I do, all ideas run away and leave me alone with beads...
So I have made only bits and pieces of jewellery. Yes, PIECES. What am I going to do with these pieces, well I have no idea. The same thing was with this bracelet. The piece with flower and seedbeads was finished and perhaps I intended to make a pendant for a necklace... or perhaps it was ment to be an earring... Either way it took a couple of days for me to figure out that it's going to be a part of a bracelet. Then it took even more days to think what this bracelet will look like. When I started working on it then there was another day to figure out some technical problems. I don't dare to think about how long exactly did it take for me to make this bracelet. But finally, here it is :)
It's also in my DaWanda shop. Sold.