Polnudki võimatu :) Kurvastasin enne, et mul pole selle kivi jaoks "pesa". Ega mul praegu ka pole :) Aga üks olemasolev sai tangidega kujundades täiesti sobivaks. Kujutage ette kui rõõmus ma olin kui selle võimaluse avastasin! Kaelakee keskosale panin rippuma ühe lopsaka erinevatest kettidest koosneva ripatsi. Lisaks keskmisele vapi kujulisele ehtekivile on siin mõned valget moonstone klaasist, läbipaistmatust helerohelisest ja swarovski green opal ehtekivid.
Kaelakee keskosa maksimumlaius on 5cm.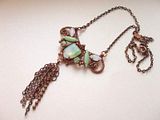 It wasn't impossible :) I was sad I didn't had a setting for that stone. Well, I don't have it now either :) But I managed to customize one setting I already had with my pliers. Imagine the happiness when I discovered this possibility! There is a chain tassel from different chains hanging from the center piece. There are also some white moonstone glass, opaque light green and swarovski green opal rhinestones.
The maximum with of the centerpiece is 5cm.