Ma vahepeal proovin ikka hõbedast ja hõbetatud ehteid ka teha. Et oleks vaheldust või nii. Aga huvitav küll, kohe vaskne meeldib rohkem. Vbl kui ma hõbedat oksüdeeriks ja poleeriks, ehk siis meeldiks rohkem? Mul on juba eelmisest aastast pakendist välja võtmata üks hõbeda oksüdeerimise vedelik. Peaks võtma asja kätte...
See kaelakee siin on hõbetatud traadist. Lillekujuline klaaskivi on nn moonstone klaasist. Tilk aga swarovski crystal AB. Tõepoolest, see crystal AB sobib kõikide värvidega! Jälle on kaelakee keskosa suht väike ja niimoodi pildil vaadates ei tunne nagu äragi. Aga noh, vähemalt on värvid õiged :)
Müüdud.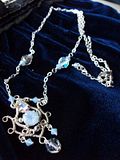 I try to make silver or silverplated jewellery every now and then. For a change I mean. But it's really weird that I absolutely love the copper colour. Perhaps I'd like silver better if I'd oxydize and polish it? I bought this liquid for silver so I could try, it was last year and I haven't even taken it out from the wrapping. Maybe I should give it a try...
This necklace here is from silver plated wire. Flower shaped glass stone is that moonstone glass again. Pear rhinestone is swarovski crystal AB. Really, crystal AB is such a great match to every colour! Again, the centerpiece is actually quite small and it's kind of strange to recognize it from the photos. Well, at least the colors are quite right.
Sold.