Kaks prossi, üks suur teine väike. See roosa on väiksem ja helmeste/kivikeste ring on pisut lopergune. Põhjus selles, et üritasin teha viie lillega mustrit metallist plaadile, millel 16 tippu :) Selle prossi ehtekivid on kõik swarovski omad. Keskmine suur on opaque rose ja väikesed frosted rose. Hämmastav, kuigi need väikesed roosad on mati pinnaga, helgivad nad ikkagi!
Teise prossi tegin selle mõttega, et näha kui suurt ma üldse saan teha. See on vist nüüd küll piir, sest muidu hakkab juba klaaskivide ja metalli raskus hõlma maadligi kiskuma. See keskmine safiirsinine kivi on jube huvitava lihviga, nagu oleks maleruudustik! See pross oli ka veel mul üks järjekordne värvi eksperiment. Tahtsin kokku panna keskmist safiirsinist ja roosat :) Ma ei tea miks, aga millegipärast tahtsin töö edenedes panna juurde ka kollast. Need kandilised ehtekivid prossi tippudes on kahevärvilised givre'd. Neli väikest suure sinise lähedal on kah omamoodi erilised. Need on imitatsioon-opaalid. Selles mõttes, et seal on klaasi sees fooliumitükikesed, mis helgivad ja klaas on ka kirju, mistõttu tekib huvitav värvide mäng. Väga kaunid! Sinised lilled koosnevad kuuest 28pp (3,5mm) swarovski sapphire kividest, nende pesadesse panemine oli päris vaevaline, see andis ennast näpuotstes mõnda aega tunda. Seal keskel on roosad fiiberklaasist (kassisilm) helmed. See suur pross on esimene kord, kui mul on õnnestunud panna kõik plaadid, prossinõelad, nimeplaadid omavahel sümmetriliselt vastavusse.
Suur pross on müüdud.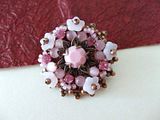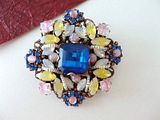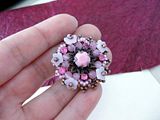 Two brooches, one big and another small. The pink one is small and the beads and stones are bit unevenly. It's because of the fact that I beaded the 5sided motif to stamped filligree that has 16 peaks ;) All stones here are swarovskis. The big one in the middle is opaque rose and small ones frosted rose. I really find it amazing that frosted stones sparkle so much!
I made the second brooch to try how big can I go with that kind of brooches. I think this is it, if I make any bigger it will be too heavy to wear. The big sapphire blue glass stone has really interesting facets, as if it was a chess board! This brooch was also another color experiment of mine, I wanted to see how sapphire blue goes with pink :) I don't know why but in the middle I added some yellow too. The square stones are two colored givre's. And the four small ones next to the big sapphire blue stone are also special - these are so called imitation opals. They have bits of folio in them to reflect light and the glass is multicolored that adds really interesting color flashes. So pretty! The sapphire blue flowers are made of six 28pp (3,5mm) swarovski stones. I felt how I set those stones long after I was done, in my fingertips ;) In the middle of these flowers I put a pink fiberoptic glass beads (cats eye). This brooch is the first time I succeeded with alligning all the motifs, stamped filligrees, brooch pin and name tag.
The large one is sold.