Need samad klaasist tilgad leidsid koha nende kõrvarõngaste juures.
Need helesinised navette-kujulised ehtekivid imiteerivad türkiisi, see on segu helesinisest ja mustast klaasist, mis tekitab türkiisile iseloomuliku maatriksi. Väikesed punased lihvitud ehtekivid on vanaaegsed swarovskid, värviks cherry red. Lille keskel on Tšehhi klaaspärl. Neid lillekujulisi motiive pole iseenesest väga keeruline teha, kuid 5-õielehelist lille 8-tipulisele kumerale metallplaadile kinnitada on lihtsalt jube. Ma loodan, et varsti unustan selle ära ja hakkan uuesti sarnastega pihta :) Iseenesest need mulle meeldivad ja teine katse on pisut parem kui esimene.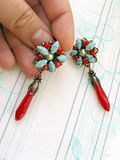 Those
vintage glass drops
found their place in these earrings.
Those light blue vintage glass navettes are imitating turquoise, a mix of blue and black so it creates a matrix. Little opaque red rhinestones are swarovskies, color is
cherry red
. In the middle there is a Czech glass pearl. It's not too difficult to make these flower-motifs, but attaching a 5-petal flower shape on a 8-tip stamped filligree that is also domed, it's horrible. I do hope I will forget all the trouble it takes and start with something similar soon :) I really like the look and the second attempt is a bit better than the
first
.