See kaelakee on mul olnud valmis juba mõnda aega, kuid pildid sellest tookord ebaõnnestusid. Täna hommikul proovisin uuesti. See on kahekordne kee, pikema keti otsas on ripats vanade ehtekividega. Värvid on minu puhul päris eksperimentaalsed, pole varem vist peridot rohelist ja topaas-pruuni kokku pannud :)
Kaelakee ripatsis on ümmargused swarovski green opal (Austria), light smoked topaz kivid (Austria), smoked topaz tilgakujulised kivid (Tšehhoslovakkiast) ja kaks eri suurusega sabrina klaasist peridot-rohelised kivid (Lääne Saksamaa). Lehekesed on USAst, kivide "pesad" Saksamaalt, Belgiast ja Prantsusmaalt, klaashelmed Tšehhist ja Jaapanist, metallhelmed Hiinast.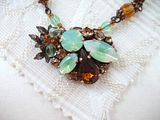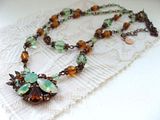 I made this necklace a long time ago, but photos didn't come out right so I didn't show it at all. Today morning I tried to photograph again. This necklace has two rows and the longer one has a pendant with vintage rhinestones. Colors are bit experimental for me, I don't think I've put together peridot green and topaz brown before :)
Pendant has round swarovski rhinestones in green opal (Austria), light smoke topaz (Austria), smoked topaz pearshaped stones (from Czechoslovakia) and two different size navettes from peridot green sabrina glass (from Western Germany). Leaves are from USA, settings for stones are from Germany, Belgium and France, glass beads from Czech and Japan, metal beads from China.