Oodake, see pole see, mis teile paistab... Ma eeldan, et esmapilgul paistab siin röögatult uhke kaelakee - mitmerealiselt Tšehhi pressitud, lihvitud ja kraklee effektiga (mõraliseid) klaashelmeid, uhke keskosa Lääne Saksamaal valmistatud klaasist tekstuuriga "suhkru"kivide ja Tšehhoslovakkia ehtekividega ning kõige tipuks veel üks suuuure läbipaistva klaashelmega ripats.
Olen ma tõesti liiga palju jõllitanud pilte vanadest ehetest? Täiesti kindel, et olen, kuid ju mitte piisavalt, et midagi sellist valmis teha...

Sest tegelikult on siin tegu sellise tavalise kolmerealise kaelakeega, ovaalse kujuga prossi ja väikese ripatsiga (mida saab panna näiteks koti või võtmehoidja külge). Sellest, kuidas kõik kokku panin, saab aimu viimaselt pildilt.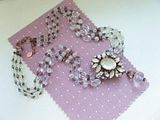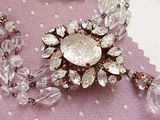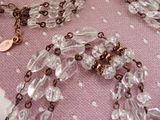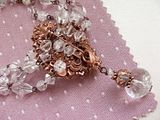 Wait, it's not what it appears to be... I suppose it appears to be a huge necklace - three rows of Czech faceted, pressed and crackle glass beads, fancy centerpiece with Western Germany textured sugarstones and Czechoslovakian glass rhinestones and addition a dangle with a biiig faceted glass bead.
Have I really spend way too many hours staring at the old costume jewelry?! Ofcourse I have, but apparently not enough to make thatkind of a huge necklace.
..
Because actually here is an average
three row necklace
, an oval shaped
brooch
and a
dangle
(for attaching to a bag or a keychain, for example). You can see how I put it all together looking at the last photo.