Swarovski on teinud palju põnevaid värve ja üha uusi tuleb juurde. Väga tahaks ära proovida uue värvi nimega Cyclamen Opal. Põnev oleks, kui kusagil saaks näha kõiki swarovski värve läbi aegade!
Näiteks polnud mul aimugi, et on selline värv olemas nagu Jade. See on omapärane rohekas toon, milles on läbipaistvaid ja läbipaistmatuid kohti nagu poolvääriskivil. Kasutasin 6mm Jade helmeid ja 13mm kivikest, lisaks 29pp suuruseid Crystal ehtekive.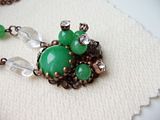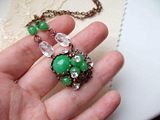 Swarovski has created so many beautiful colors and there are always new ones coming. I really like to use Cyclamen Opal one day. I wish there was a place on the net I could see all the colors swarovski ever made!
For example I had no idea of a color named Jade. It's an interesting hue of green that has opaque and transparent crystal glass. It really looks like a semiprecious stone. I used 6mm Jade beads and 13mm cabochon with 29pp size Crystal rhinestones.