Väike värvi annus pilvisesse päeva. Need päikesekollased kõrvarõngad olid üks nüri töö. Olen näinud, et sarnaselt on valmistatud päris mitmeid 1920-40ndate prossid. Ja nii tahtsin midagi taolist ära proovida. Muidugi kahetsesin, et valisin kõrvarõngad, neid ju peab kaks tükki tegema!!!
Olen ka muid ehteid vahepeal teinud ning neid näeb koos vanematega mu uhiuuest
Disainimaja poekeses
. Ma ei hakka neid ehteid enam blogisse eraldi panema nii, et külastage kindlasti, sest seal on rohkelt pilte ja pisut kirjeldavat teksti ka.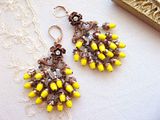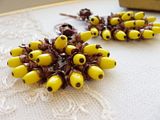 Little color splash in a cloudy day. These sunny yellow earrings were painfully boring to make. I've seen many 1920-40 brooches made this way and I wanted to try something like this. Oh, I did regret I chose earrings because earrings should be made in pairs!!!
I have done some more jewellery too. You can see them among others when you visit my little
shop at Disainimaja
. Go and check out because I don't think I'll post them here in my blog.