Ei saa ilma siniseta, ei saa ilma punaseta. Olen vist mingis kinnises ringis :) Pole hullu, varsti on mul läbipaistmatud punased ja sinised helmed otsas. Siis olen sunnitud midagi muud kasutama.

Kaelakee ovaalne kivi ning lillekestes olevad punased kivikesed on eakad swarovskid, ülejäänud on klaas.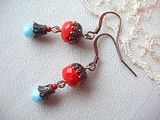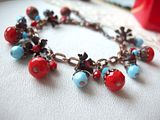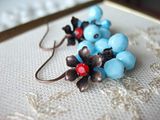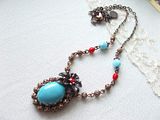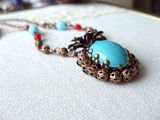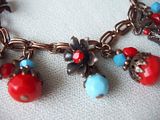 Can't be without red color, can't be without blue color. It seems it's a circle :) No worries, I'll run out of opaque red and blue beads very soon. Then I have to use something else.

The oval cabochon of the necklace and tiny red rhinestones in the center of metal flowers are vintage swarovski. Everything else is glass.