Olen müünud soovijatele helmeid ja ehtekive, kuid pole tahtnud neid oma ehtepoodi panna. Kuidagi nagu ei sobi minu arvates need omavahel. Lõpuks võtsin julguse kokku ning küsisin DaWanda administratsiooni käest luba teha endale teine pood. Selle ma ka sain koos näpunäidetega. Nii ma vaikselt laadisin pilte üles ning avastasin, et pole ammu kasutanud neid
jubearmsaid lillasid tilgakesi
! Ja pealegi sain just ühe eriti jämeda dekoratiivse keti, mida tahtsin kuskile ehtesse toppida.
Mõtlesin, et teen üksiku käeketi ent ühed kõrvarõngad tekkisid ka. No kui aus olla, siis on mul veel üks käekett ja kaelakee pooleli samades värvides...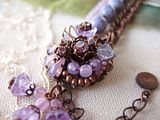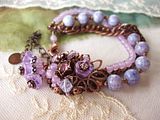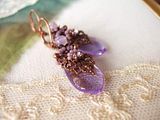 I've sold some beads and rhinestones, but didn't want to put them on my jewelry shop. They just don't seem to go well together... So I turned to DaWanda administration to ask permission to open another shop there. And I got it with some suggestions how it should be done. When I uploaded photos I discovered
those cute purple drops
that I haven't used for a long time! And I just got this extra wide decorated chain I wanted to try out.
I thought I'll make a single bracelet but a pair of earrings came along. Well, to be honest, I also have another bracelet and a necklace in same color that I yet need to finish...