Ma tõesti soovin, et päevas oleks rohkem tunde ja et saaksin rohkem ehteid teha... Aga vahepeal (töö ja puhkuse siis) sain valmis ühe komplekti kaelakeest ja kõrvarõngastest. Need kõrvarõngad on nüüd nende uute kõrvarõngatoorikute peale tehtud. Tilgakujulised ehtekivid on Lääne Saksamaal valmistatud ning on kahevärvilised -> ruby ja sapphire. Kasutasin ka Tšehhoslovakkia punaseid kivikesi ning vanu roosasid swarovski kive. Helmed kõik uued.
Muide, käige ja külastage
Les Petites
'i uut poodi Tartu mnt-l (täpne aadress Tartu mnt 28). Käisin seal poe avamisel 14ndal! Seal on jubekihvte Eesti disainerite asju, just selliseid, mida hea kinkida ka. Sealt leiab ka mu ehteid. Samuti sätin ehteid ka
Disainimajja
, nii et olete igati teretulnud!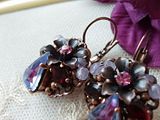 I really-really wish that there were more hours in a day so I could make more jewellery... But meanwhile (between work and holidays) I finished a set of necklace and earrings. Those earrings are made with the new earring findings I recently ordered. Pearshaped rhinestones were made in Western Germany and are with two colors -> ruby and sapphire. I also used garnet navettes made in Czechoslovakia and vintage swarovski rose rhinestones. Beads are all new.