Lehed puudel hakkavad juba värvuma kollaseks-punaseks. Loodus seab end valmis. Sügiseks...
Roosikrants. Ma väikse lapsena arvasin, et see on naabri koer :) Ega ma ei küsinud ka, vaid olin oma arvates juba piisavalt tark. Naabri nimi oli Roosi. Mida siin enam küsida.
Tegin seoses roosikrantsi ehitusega pisut eeltööd ka, päris põnev. Sobivat risti otsisin kaua, sest ei soovinud kasutada krutsifiksi. Leidsin ühe metalli firma, mis kasutab vanu, vahel isegi 100 aasta vanuseid vahendeid (stantse?), et teha ilusaid messing kaunistusi.
PS Ehtekivide fännidele lisasin tarvikute poodi
mdmB-Supplies
uusi artikleid. Kõiki minu varusid seal ei ole, ega saagi olema. Tegin poe, et kuidagi paremini kordineerida ostu soovijatega info jagamist. Kui on mingi kindel soov, siis kirjuta mulle, panen poodi üles.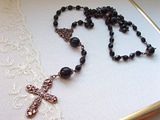 Leaves are starting to change their color. There are more and more yellow-red leaves now. Nature is starting to get ready for Autumn...
Rosary. It is really interesting to search info about the structure of a rosary. Mine is a catholic rosary (the number of beads). But I didn't want to use a crucifix. Took some time to find a cross I liked... I found a metal stamping company that uses old, sometimes even 100 year old stamps to create beautiful metal findings.
PS I added some items for rhinestone lovers to my
mdmB-Supplies
store. Not all of my stash is out there and I don't think it ever will. So if you have some specific rhinestone in mind, let me know and I'll upload it.