Helesinine pross Tšohhoslovakkia klaaskividest. Prossi keskel on ümmargune klaaskivi, mis pärit sealtsamast
klaaskivide hunnikust
;) Selle tagumine pool on tekstuurne ja seetõttu on näha selline huvitav muster. Väiksemad ümmargused on kuukiviklaasist.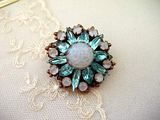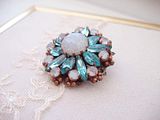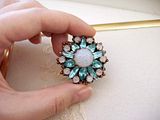 Light blue brooch with Czechoslovakian rhinestones. Opal white stone in the middle is from the
cabochon lot
I wrote about some time ago. It has a textured back that gives an interesting pattern. The smaller ones are moonstone glass.