Vahepeal näitan ehteid, mida ma ise pole teinud. Need on
saphiret
klaasist ning pärit kuskil viktooria ajastust või nii. Kaks prossi, millest ühel on kivid mati pinnaga ning kõrvarõngapaar, millele on pandud baasmetallist kivi pesa (mis omal ajal oli hõbedane või hõbetatud) külge 800 prooviga hõbekonksud.
See on päris huvitav jälgida, kuidas inimesed (kes nagu minagi on sedasorti klaasist täiesti sisse võetud) otsivad nagu verekoerad uut informatsiooni. Nüüd on päris põnevaks kiskunud, sest inimesed on jagunenud kahte leeri. Ühed kes vannuvad, et tegu on unikaalse klaasiga, mis kindlalt sisaldab kulda ja mida enam ei osata toota. Ja teised, kes (sinna kuuluvad ka näiteks inimesed, kes on klaasikunstnikud) loodavad, et klaasi "retsept" ei ole kadunud ning uuemat sorti
saphiret
klaasi (mida nimet. ka
sappharine
) saab valmistada asendades kuld vasega. Ja isegi võib olla, et on see võimalik, et ka tänapäeval saaks seda toota! Väga põnev.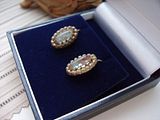 I'll show some jewellery that is not made by me. These were made with saphiret glass and from victorian era or so. Two brooches, one with frosted other with faceted stones and a pair of earrings with 800 silver hooks attached to a base metal stone setting that was in it's days silver colored (or silver plated).

It is quite interesting to watch how people (who are like me fascinated by this sort of glass) look for new information. Now it's getting rather interestin because there are two main opinions out there. One is (as most thought before) that saphiret is a true rarity glass that was made by pouring liquid gold into saphire blue glass and that it cannot be made anymore. The newer view is that the receipt may have not been lost and the newer saphiret (sappharine) was made with copper instead of gold. And it could be that this glass may put in production today! Very interesting indeed.