Aeg järjekordseks loosimiseks. Vaatasin eelnevaid selleteemalisi postitusi ja leidsin, et olen loosinud kaelakeed, prossi ja kõrvarõngaid ent käekett pole loosirattasse sattunud. Seda annab parandada.

Siin on siis värske ja uhiuus käekett tänasest nokitsemisest eilsete ehtenõeltega. Et loosis osaleda, jäta siia postitusse kommentaar ning pead olema Follower. Kommentaare jätta on aega terve nädal. Vaatan üle kõik kommentaarid, mis on jäetud siia kuni kella 21:00ni 13.veebruaril ning sõbrapäeval 14ndal loosin võitja. Postikulu on minu poolt.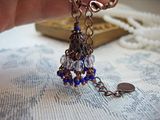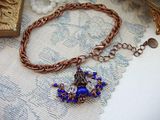 Time for a free giveaway. I browsed my previous posts and found out I had giveaways for a necklace, brooch and a pair of earrings but no bracelet. I can fix this.

This is a brand new bracelet made today using ball pins I made yesterday. To take a part from this giveaway you need to be a Follower and leave a comment here. You'll have a whole week for that. I'll check all comments left here till 21:00 (Estonian time) on 13th February and announce the winner on Valentines Day.