Üks paar pikki kõrvarõngaid ning käekett. Ma ei tea, mis mul hakkas, et ma käeketile seemnehelmestest keti tegin!? Ju see oli mingi hulluse hoog, mil mu mõistus mind maha jättis. Seemnehelmeste suurus on 10/0 ehk 2mm. Tulemus on ju igati OK, aga vaevalt ma seda nii naljalt kordan...
Tegin ka roosa nupuga ehtenõelu leeklambiga. Ning tegin kohe sellise suurema hulga. Ei tea täpselt palju neid seal on, aga kindel on see, et otsa saavad nad igaljuhul rutem kui ma tahan.

Ohoo, lugejaid Follower'i kaudu on kogunenud ilus ümmargune number. Paistab, et on aeg tasuta kingituse loosimiseks.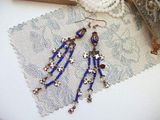 A pair of long earrings and a bracelet. I'm not sure what happened but I made a chain out of seedbeads!? I must have bee out of my mind! The size of these seedbeads is 10/0, that's 2mm. I do like the result but I don't hink I'll repeat this time consuming project in near future...
I also made some cute little rose ball pins. And I made a lot. Not sure how many are there exactly but I am more than convinced that these will run out much faster than I would like.

Well, it's quite a pretty number of Followers now. It seems it's time for a free giveaway.