Paistab, et ei saanud pidama. Esimesed kõrvakad on hetkel lemmikud. Tegu uute ehtekividega, valmistatud Preciosa (Tšehhi) poolt ning viimistluse nimi on Sahara. Otsevaates on kivi tagasihoidlikku sinist värvi, külje pealt lööb aga kollaseid-oranže sädemeid :)

Ai, näpud valutavad nende tillukeste kivide pesadesse kinnitamisest...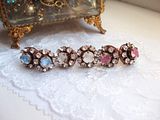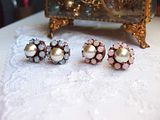 Looks like I'm in a roll. First pair is my new favourite. I used brand new rhinestones, made by Preciosa (Czech) with special coating called Sahara. Stones are modest blue with yellow and orange sparks when looking at an angle :)
Autch, my fingers hurt from setting all these tiny stones...