Uus pross, mille sain valmis eile. Siin on
Crystal Comet Argent
ehtekivid kolmes suuruses ning hematiidi ja musta värvi ehtekive. Proovisin siin katta ühe metallplaadikese pisikeste ehtekividega. Väikesed ehtekivid sätendavad pööraselt :P
Hematiidivärvi kivid on klaasist, ülejäänud on Swarovski toodang. Kõik kivid on vintage.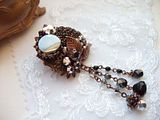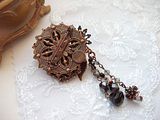 New brooch I finished yesterday. Here are Crystal Comet Argent rhinestones in three sizes plus black and some hematite color rhinestones. This brooch includes my first succeeded attempt to cover a metal plate with tiny rhinestones. Thes little ones sparkle like crazy :P

Hematite colored cabs are glass, rest of rhinestones are Swarovski crystal. All are vintage.