*Urban Beautiful semifinalistid selgunud, vaata
siit
!
*Tšehhi seemnehelmeste tellimus tehtud ja Eesti poole teel. Kahjuks läbipaistvat hõbesisuga seal hulgas pole. Suurused on enamuses 11/0 ja 15/0.
*Olen teinud hulga kõrvarõngaid ja neist palju pilte. Aga pildid enamjaolt välja ei tulnud :(
*Midagi uut kõrvarõngaste vallast ka. Käsitsivalmistatud klaaspärlid 1920ndatest aastatest, swarovski
Olivine
ning preciosa
Sahara
ehtekivid, Tšehhi roosad ning käsitsilihvitud Hiina klaashelmed: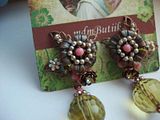 *Semifinalists of Urban Beautiful Contest are announced, you can find them
here
!
*I've finished an order of Czech seedbeads and the package is on it's way!
*I've done a lot of earrings and even more photos of them. But photographing was a total disaster :(
*Above you can see something new in my earring-making. Tiny handmade glasspearls from 1920's, swarovski Olivine and preciosa Sahara rhinestones, Czech pink and handfaceted glassbeads from China.